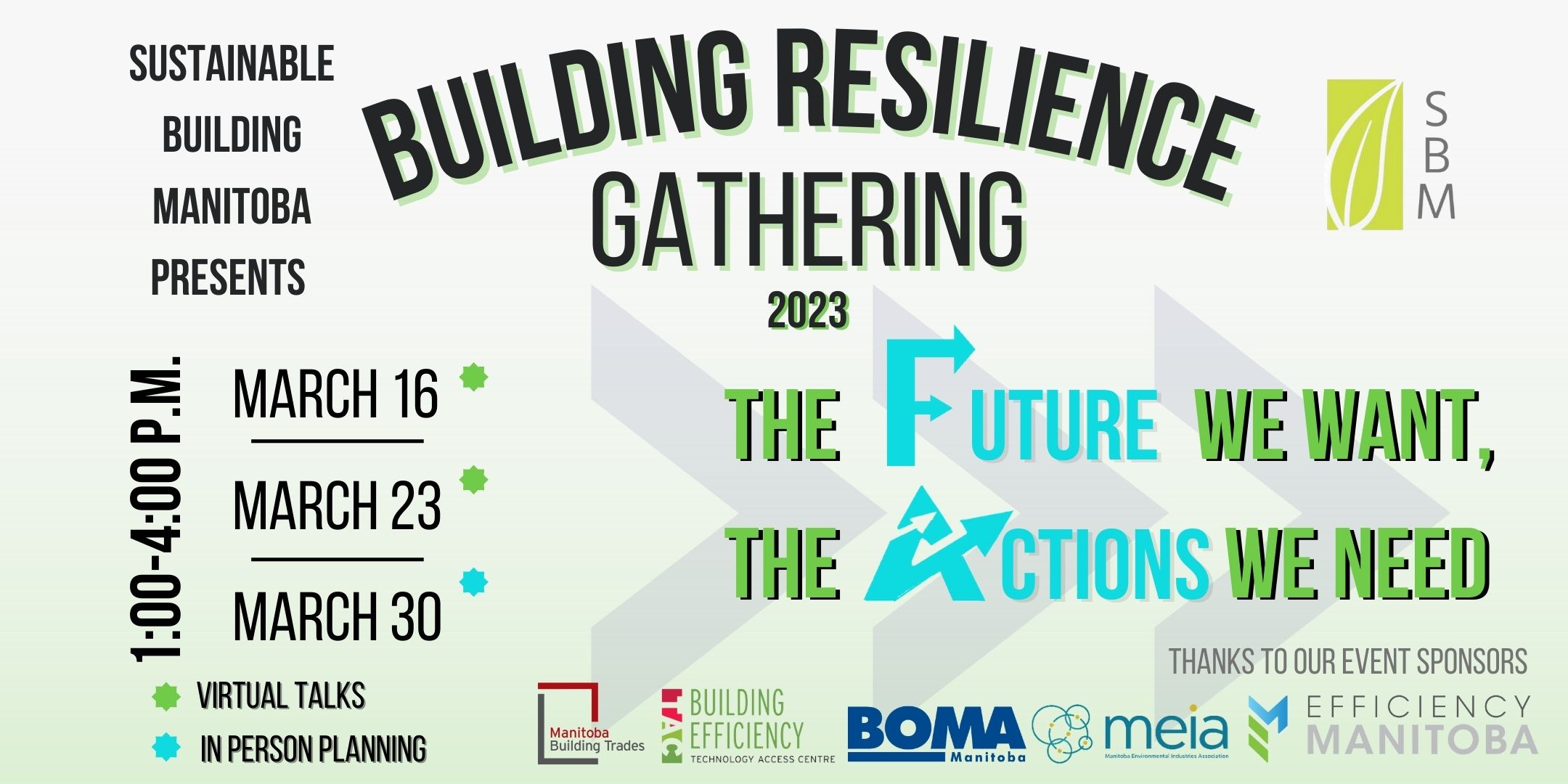 Sustainable Building Manitoba's annual gathering is an opportunity for our community to come together and learn from leading experts and each other.
The gathering will take place over 3 afternoons and will explore industry innovations and sector updates on important, relevant topics like building codes, financing and sector training
March 16th and 23rd will each have four 30 minute online presentations full of useful and inspiring information.
Location: Zoom
Want to know about the upcoming building codes? –  Someone from the province will be there to respond AND someone part of the federal code development group.
Curious about when and why you should do an energy model? – Find out about commercial and residential from people on the front lines
What's Manitoba's energy future? –  Hear from Efficiency Manitoba, Manitoba Hydro and the Province of Manitoba
See full schedule below.
ACTION PLANNING: March 30th will be devoted to identifying the actions necessary for the building sector to be sustainable. Clear asks are very important given that it is an election year. The time to make things happen is now.

Location: St. Boniface Library – 101-131 Provencher Blvd.
FREE to attend this in-person session.
20% off for sustaining SBM members. | FREE for SBM student members.
FLEXIBLE TICKET STRUCTURE Buy for one day, any two days or the whole Gathering.
BACK THIS YEAR: Special pricing for Offices at $150 – a great chance to set up in your board room to participate in learning and to build collaboration within your team. Or maybe you think there are some members of your team that should see one session and others that should see a different one. This ticket offers you that flexibility.
! if cost is a barrier, please get in touch so that we can remove that barrier for you !
All sessions will have a Graphic Recording done by Think Link Graphics

Special thank you to our event sponsors
Efficiency Manitoba, Manitoba Environmental Industries Association, Manitoba Building Trades, BOMA Manitoba and Building Efficiency Technology Access Centre
SCHEDULE OVERVIEW – details and bios below

Registration has exceeded the capacity of our orginal location.  Register now and stay tuned for more details on the new BIGGER location.

What is needed to make these things happen in Manitoba and how do we do it together?
We'll gather together in person to develop a list of policy requests for the Province during this election year to help Manitoba's building industry thrive. This is a great time to connect and reconnect with people from the sector.
Following our planning session, there will be some social time at a nearby watering hole.
SIgn up now and stay tuned for more details…
Federal Policies
An overview of key federal policies and programs in the buildings sector, along with thoughts on trends and next steps.
SPEAKERS
Jérôme Bilodeau from NRCan's Office of Energy Efficiency
Jérôme Bilodeau is the Director of the Buildings Division at NRCan's Office of Energy Efficiency, where he oversees the delivery of programs and policies aiming to save energy and reduce greenhouse gas emissions in the buildings sector. He also teaches Energy Efficiency Policy at Carleton University, and sits on the board of the Canadian International Council (National Capital Branch) and on the Steering Committee of the UN's Global Alliance for Buildings and Construction. Prior to this role, he was Senior Consultant at Dunsky in Montréal, and manager at Environment and Climate Change Canada. A licensed professional engineer, Jérôme holds a B.A.Sc. in Mechanical Engineering from the University of Ottawa, and an MBA from HEC Montréal. 
Brendan Haley from Efficiency Canada
Brendan Haley is the Director of Policy Research at Efficiency Canada, a Carleton University based organization dedicated to building an energy efficient economy, and Adjunct Research Professor at Carleton's School of Public Policy and Administration.
In the mid-2000s, Brendan was the primary advocate behind the creation of Canada's first energy efficiency utility in Nova Scotia. He has acted as researcher, advocate, and strategist for organizations such as the Broadbent Institute, Ecology Action Centre, EfficiencyOne, Canadian Centre for Policy Alternatives, Smart Prosperity Institute, and Pembina Institute.
PACE & Project Financing
PACE (Property Assessed Clean Energy) is an important policy tool that faces unique challenges in Manitoba because of cheap energy and an already decarbonized electric grid.
SPEAKERS
Derek Satnik from s2e's Smart Communities
Derek Satnik is a recognized expert in net-zero energy communities and all the tools that make them possible: technical, financial, and policy related. Derek has been awarded some 18 times for leadership in this industry, municipally through internationally, and is one of the key authors/contributors behind all of Canada's green building programs including LEED, Built Green, Solar Ready, Net-Zero, updates to ENERGY STAR, Ontario's Building Code, Ontario's Green Energy and Green Economy Act, and now net-zero energy housing. Derek has supervised energy related projects on over 45,000,000 sq.ft. of various building types, and as the Vice President of Technology for s2e's Smart Communities division, he now leads net-zero energy community projects across North America.
Zach Rempel from International Institute for Sustainable Development
Zach works as a policy analyst for the International Institute of Sustainable Development based in Winnipeg, Manitoba. 
Training for High-Performance Building
It is time to train the next generation of the skilled workforce, and that starts right here in Manitoba. Hear insight into various training programs available and what is needed to achieve GHG reduction goals while becoming more competitive and energy efficient.   You will also learn about partnerships, varying methods of delivery, and options for upskilling, retraining, and hiring to be future-ready.

SPEAKERS
Jeremy Carlson from International Association of Heat and Frost Insulators Local 99
Jeremy serves as the President and Training Coordinator of the International Association of Heat and Frost Insulators Local 99.
Jeremy received his Red Seal Insulator (Heat and Frost) designation over a decade ago, and has since spent his career focused on energy conservation. He has taken this passion for the industry and translated it into the classroom, filling the term position for the last 10 years teaching the Insulator Heat and Frost Red Seal Trade at Red River College.
Jeremy is a graduate of University of Manitoba, and holds a Bachelor of Arts in Psychology.
Shari Bielert from RRC Polytech
Shari Bielert is the Chair of the Civil Engineering Technology department at Red River College Polytechnic. She finds working at RRC Polytech extremely rewarding, especially seeing young, inexperienced students evolve into proud graduates and accomplished members of the construction engineering industry.
Shari works closely with various areas at the College and industry to ensure employers have co-op students and graduates with the skills and knowledge they need. New times call for new strategies. Our delivery methods, programming, and response to industry ensures that we stay In Front of What's Ahead.
When and Whys of Energy Modeling
Energy modeling is central to understanding a building's energy use.  When and how should they be done?  Hear from both the residential and commercial sides.
SPEAKERS
Crystal Bornais from prairieHOUSE Performance Inc.
Crystal Bornais has worked in the green building industry for over 15 years and is passionate about contributing to climate change solutions through the built environment. She has worked as a LEED consultant, a policy analyst with the Government of Manitoba's Green Building Program, and as a Regional Director with the Canada Green Building Council.
In Crystal's current role as Business and Service Organization Manager at prairieHOUSE Performance Inc. she liaises with NRCan and Efficiency Manitoba and supports prairieHOUSE's team of Registered Energy Advisors.
Melanie Chatfield from the City of Winnipeg
Melanie Chatfield, P.Eng.is an Energy Analyst with the City of Winnipeg. With a background in mechanical engineering, she has over 15 years of high-performance building experience.
Melanie is responsible for the reduction of energy consumption and carbon emissions in the City. She works with the Municipal Accommodations department to identify opportunities for energy conservation through operational and capital investment methods. With direct knowledge, she understands how energy efficiency education and assistance is essential to building owners, operations and maintenance staff, and design consultants. In addition to Melanie's work as an Energy Manager, she has five years of experience in project management working on various construction projects, including several environmental projects in the United Kingdom.
Geothermal and First Nations
The energy transition doesn't require more money. It requires adopting new financing strategies. Learn how Aki Energy is installing heat pumps in Manitoba First Nations, including $10 million in community-owned residential geothermal ground source heat pumps installed using trained local First Nation installers.
Hear also from
Indigenous Clean Energy
to discover how they are powering an Indigenous-led clean energy future. Learn more about Energy Efficiency for Indigenous Housing and how it can bring benefits beyond efficiency.
.
SPEAKERS
Darcy Wood from Aki Energy
Darcy Wood is the CEO of Aki Energy, an award winning First Nations Social Enterprise, and Aki Foods. Previously, Darcy worked as a Senior Policy Analyst in the housing and infrastructure for the Manitoba Keewatinowi Okimakanak (MKO), Assembly of Manitoba Chiefs, and for Indigenous and Northern Development Canada at both the Manitoba region and Federal levels. Darcy has also served as Chief in his home community of Garden Hill First Nation, and as a political advisor to the MKO Grand Chief.
Shaun Loney from Aki Energy
Shaun Loney has cofounded BUILD and Aki Energy both in the green energy sector. He's written 5 books including An Army of Problem Solvers which has sold over 10,000 copies. He recently ran for Mayor of Winnipeg and, using no taxpayer dollars, committed to 30,000 heat pumps in the city by 2030 and a city-wide EV charging system. 
Corey Cote from Indigenous Clean Energy
Corey Cote is Algonquin and Mohawk and a proud member of Kitigan Zibi Anishinabeg. As the Program Coordinator of the Bringing It Home initiative, Corey works to support the growth of Indigenous energy efficiency capacity to enable communities to make long-term improvements to housing. He believes that homes are a source of nourishment for Indigenous identity and where quality of life begins. Corey sees energy efficiency as a pathway to create employment and economic participation, and as a means to create homes that are healthy, durable, affordable, and culturally appropriate.
Manitoba and Building Codes
We will discuss the big code changes from 2010 to 2020 at a high level, highlight the Climate-Resilient Buildings and Core Public Infrastructure Initiative, the research, and how it will affect codes.
Hear also the latest news the government has to share about Manitoba's building code adoption plans.
SPEAKERS
Tammy Harper from RRC Polytech
Tammy Harper is an Instructor in the Civil Engineering Technologies Department at Red River College Polytech, where she teaches Code related courses, as well as, Management, Human Resources, Communications and Leadership to the Construction Management Degree Program students.
Prior to moving to RRC Polytech Tammy was the Chief Building Official for the Office of the Fire Commissioner. During that time, Tammy provided code interpretation, mediated code concerns and taught code related courses for building officials, design professionals and the general public. She also Chaired many code development committees at both the provincial and national level.
Tammy is currently a member of the Transition Advisory Committee which is assisting the new Harmonized Codes Board in taking over the work of the Canadian Commission on Building and Fire Codes (CCBFC). She also sits on the Standing Committees for Division A and C, the Standing Committee for Nominations and the Joint Task Group on Impact Analysis.
Joe Kasprick from the Government of Manitoba
Joe Kasprick is the Program Manager – Building Codes Inspection and Technical Services Municipal Relations with the Province of Manitoba.  He has over 10 years experience working in municipal and provincial government. His current duties include overseeing the Building Safety section for the Province of Manitoba. This section is responsible for issuing building permits in various areas throughout Manitoba and within Provincial Parks.
Manitoba's Energy Future
Manitoba has a number of plans in the works for what's next for energy use and production, including the government's Energy Framework and Manitoba Hydro's Integrated Resource Planning.
Learn more about these and other plans coming from our government and crown corporations.
The future of energy is efficiency, let's work together to get there.
Consider subscribing for updates on the Integrated Resource Plan. See "Your voice matters" at https://www.hydro.mb.ca/corporate/planning/.
SPEAKERS
Lindsay Melvin from Manitoba Hydro
Lindsay holds a Bachelor of Science in Mechanical Engineering, a Master's of Science in Mechanical and Industrial Engineering and a Master's in Business Administration, all from the University of Manitoba. Lindsay has enjoyed various positions across business units at Manitoba Hydro, including System Modelling in Resource Planning, Market and Risk Studies in Export Power Marketing, Business Performance in Distribution Engineering & Construction, and Distribution Portfolio Management and Controls Section Head. Lindsay is currently very excited to be a part of the Integrated Resource Planning Division as manager of the new IRP Policy & Coordination department. 
Peter Kidd from Efficiency Manitoba
Peter comes with decades of participation in building sustainably, long before the early days of LEED, but LEED was a tangible development. He is an engineer, building enclosure and alternatives being a main focus.  Peter currently works as a Building Enclosure Engineer at Efficiency Manitoba.
What's next for Sustainable Building?
The primary technical climate change challenge in Manitoba is this: How can we heat all of our buildings and fuel our vehicles electrically? Is it possible?
Curt will present a proposed policy framework to meet that challenge. This framework is structured to accomplish the necessary work laid out in the Manitoba Climate Action Team's Road to Resilience: Energy Solutions.
Laura will review what SBM's is working on and how you can help make it all happen.
SPEAKERS
Laura Tyler from Sustainable Building Manitoba
Laura Tyler is currently the Executive Director for Sustainable Building Manitoba. With a background in marketing and business development (she earned an MBA from Ryerson University in 2010) and film studies, Laura is passionate about fusing creativity with team building in order to increase her community's capacity to achieve goals. As a major proponent of big organizing, she gets great joy from bringing people together. Laura is lucky to have spent time working for film festivals, zoos, museums and advocacy groups.
Curt Hull from Climate Change Connection
He has previously worked on clean energy and sustainability projects with diesel and winter road dependent First Nations in Northern Manitoba. Since 2018, he has been working with and advising Engineers Geoscientists Manitoba on their climate change initiatives. He is currently Project Manager of the Road to Resilience suite of projects with Manitoba's Climate Action Team.