In the 2022 Civic election, all Winnipeg candidates were asked to answer yes or no to the following questions:
Will you ensure the City of Winnipeg Office of Sustainability staff levels are in line with other major cities so they have the resources needed to achieve Winnipeg's GHG reduction targets?
Will you create a community advisory council as recommended in Winnipeg's Climate Action Plan and Community Energy Investment Roadmap (CEIR)?
Will you commit to allocating budget to projects recommended by the Community Energy Investment Roadmap (CEIR)?
Will you ensure that a climate action lens is applied to your decision-making?
THE COMMITMENT TO INVEST IN SUSTAINABILITY IS STRONG IN WINNIPEG
Everyone who responded said YES to all 4 questions.
You decide what message no response sends.
Here are the elected candidates who said yes to investing in sustainability, and here are those that did not even respond (you can decide for yourself what that means).
YES TO SUSTAINABILITY
Brian Mayes (St. Vital)*
Sherri Rollins (Fort Rouge- East Fort Garry)
Ross Eadie (Mynarski)
John Orlikow (River Heights-Fort Garry)
Vivian Santos (Point Douglas)
Scott Gillingham (Mayor)
Evan Duncan (Charleswood-Tuxedo-Westwood)
* Mayes is Chair of Water and Waste Committee which is where the Office of Sustainability report to.
NO RESPONSE
Markus Chambers (St. Norbert-Seine River)
Jason Schreyer (Elmwood- East Kildonan)
Matt Allard (St.Boniface)
Janice Lukes (Waverly West)
Jeff Browaty (North Kildonan)
Cindy Gilroy (Daniel McIntyre)
Devi Sharma (Old Kildonan)
Shawn Dobson (St James)
Russ Wyatt (Transcona)
May this election mark a turning point for Winnipeg taking sustainability and climate action seriously by investing in it.
Here are the candidates who responded yes to investing in sustainability: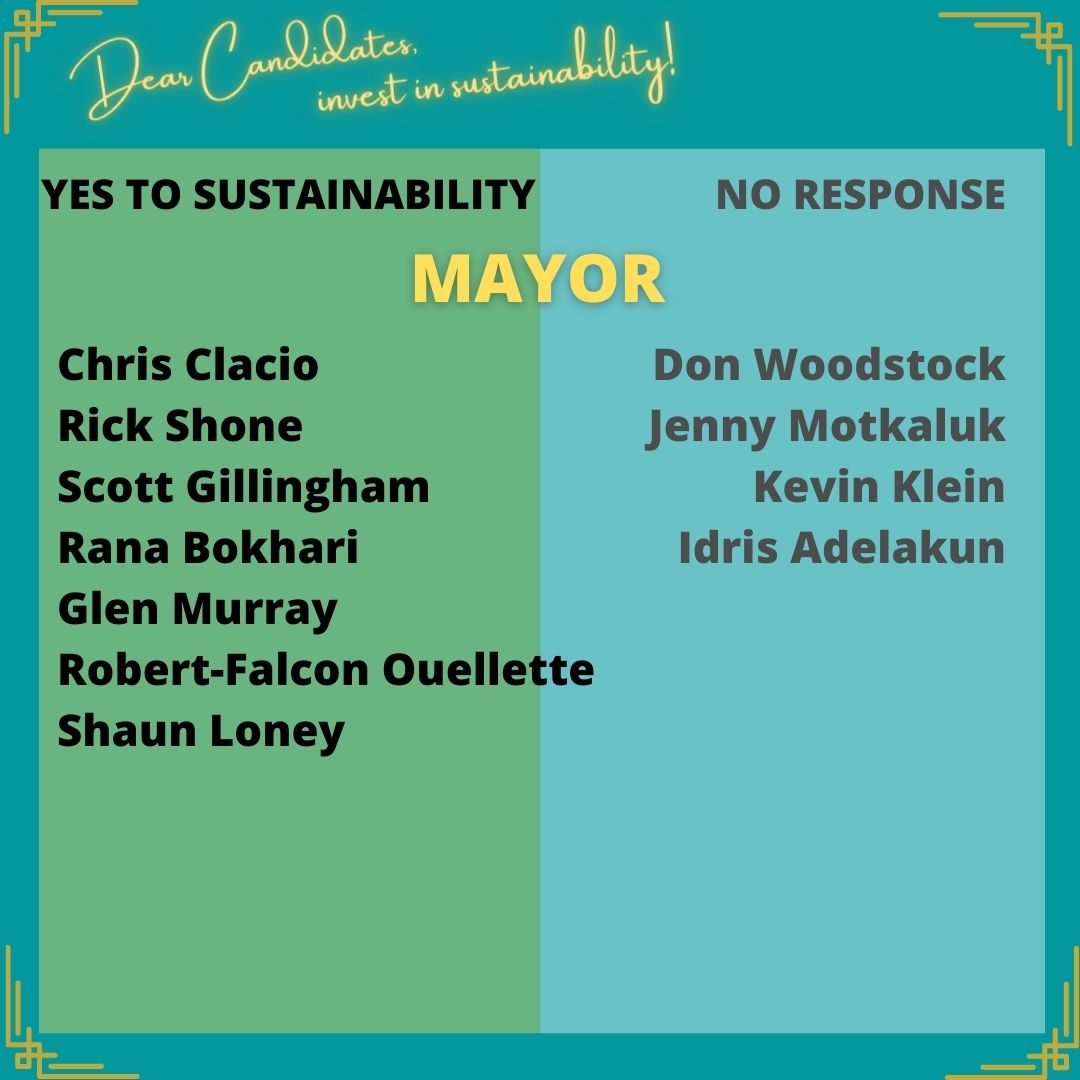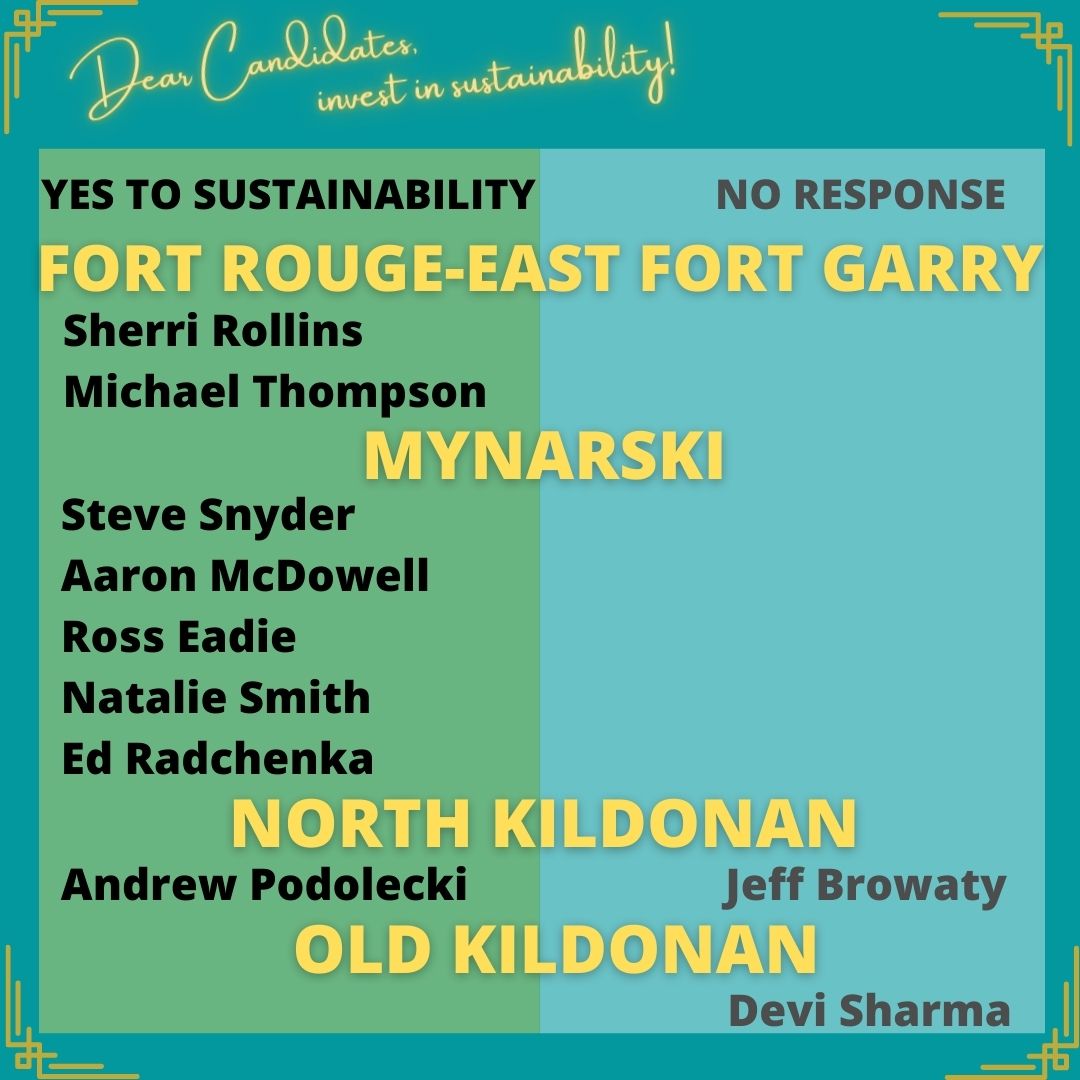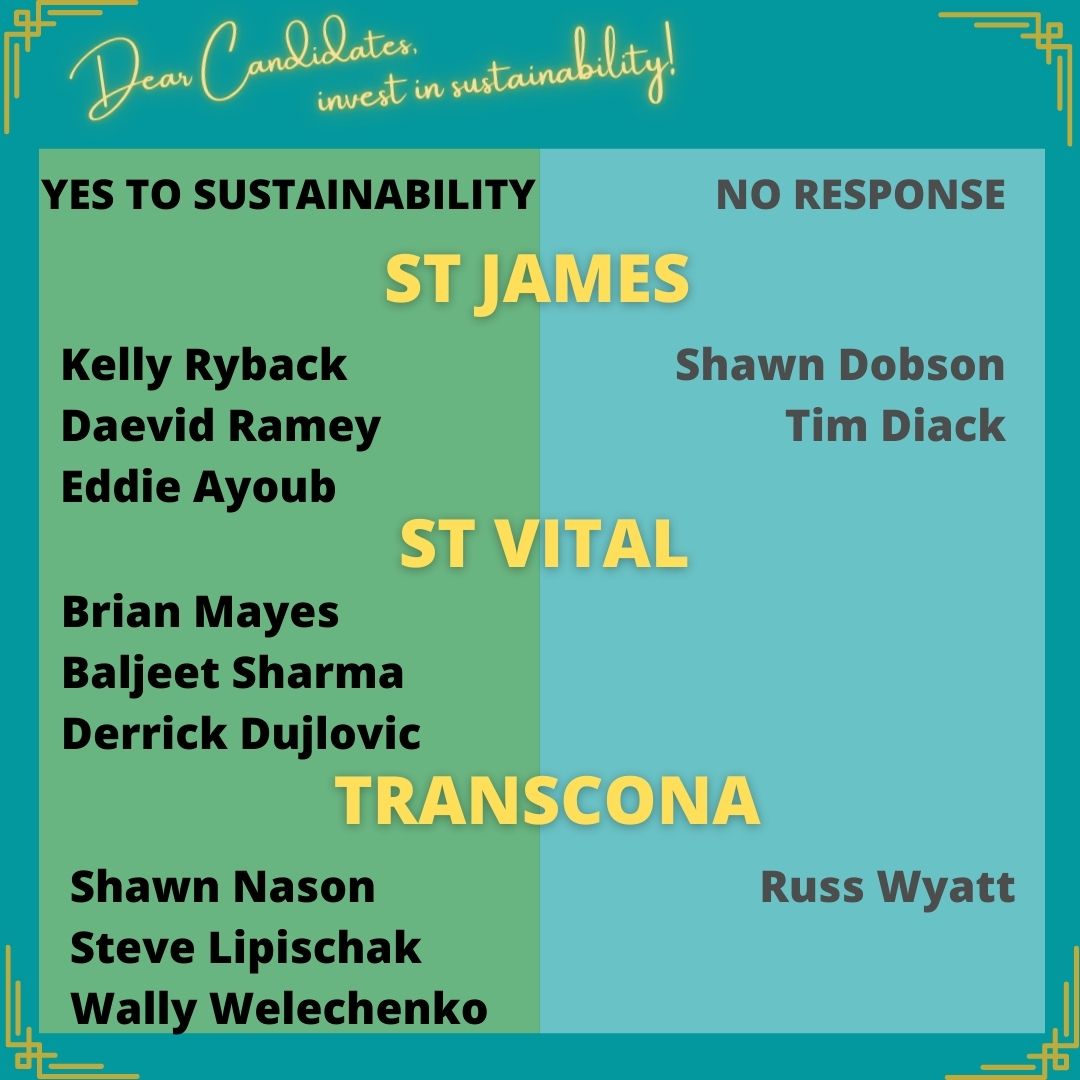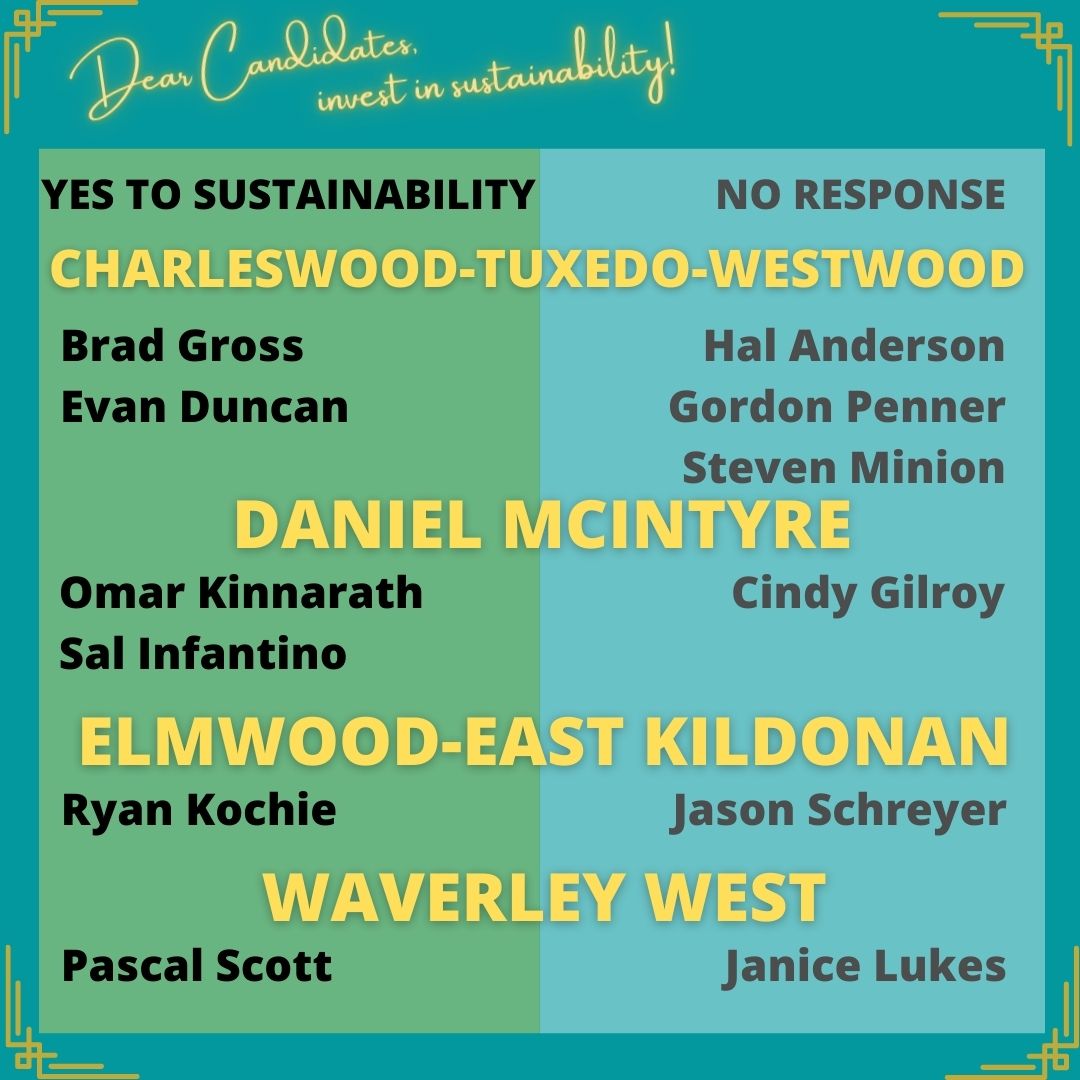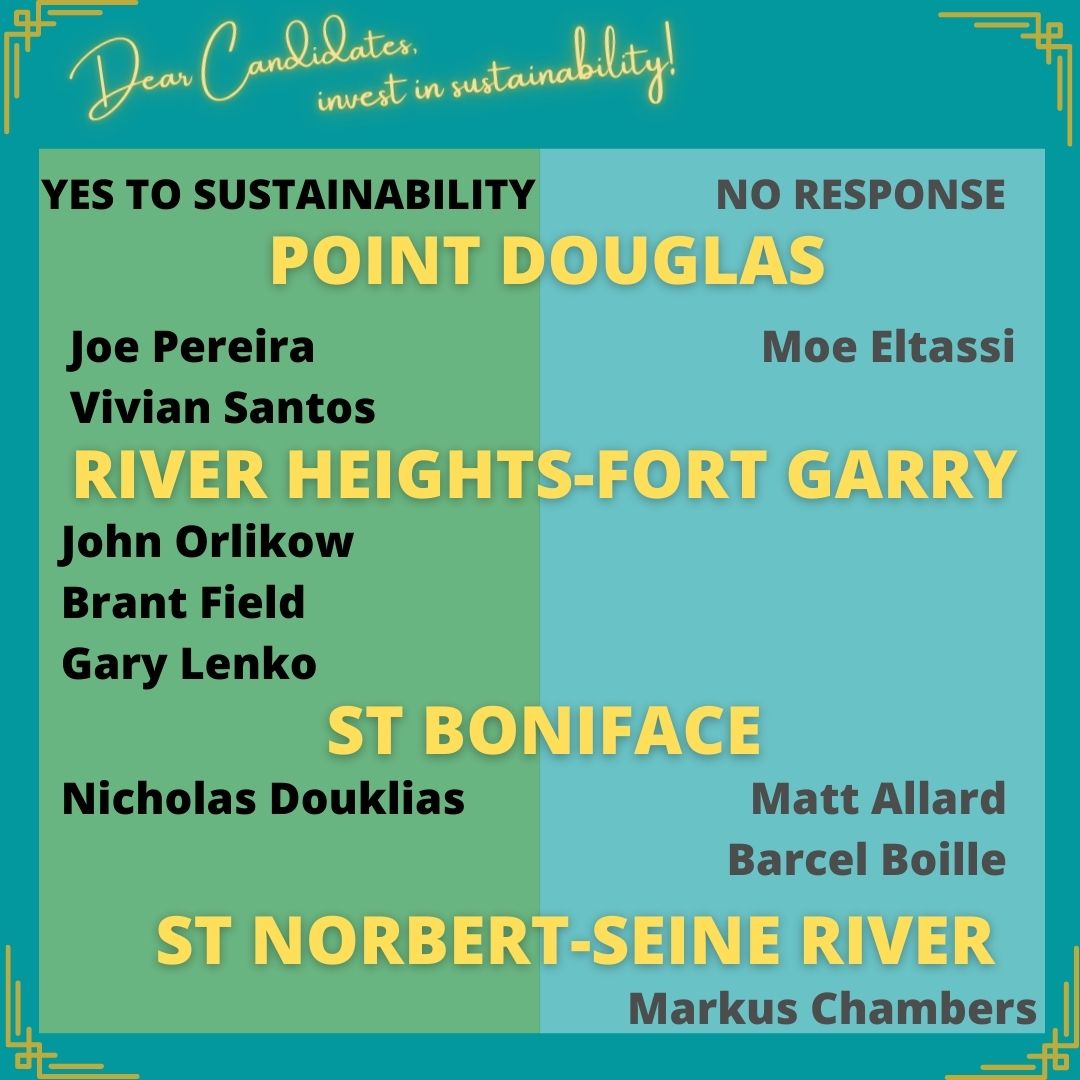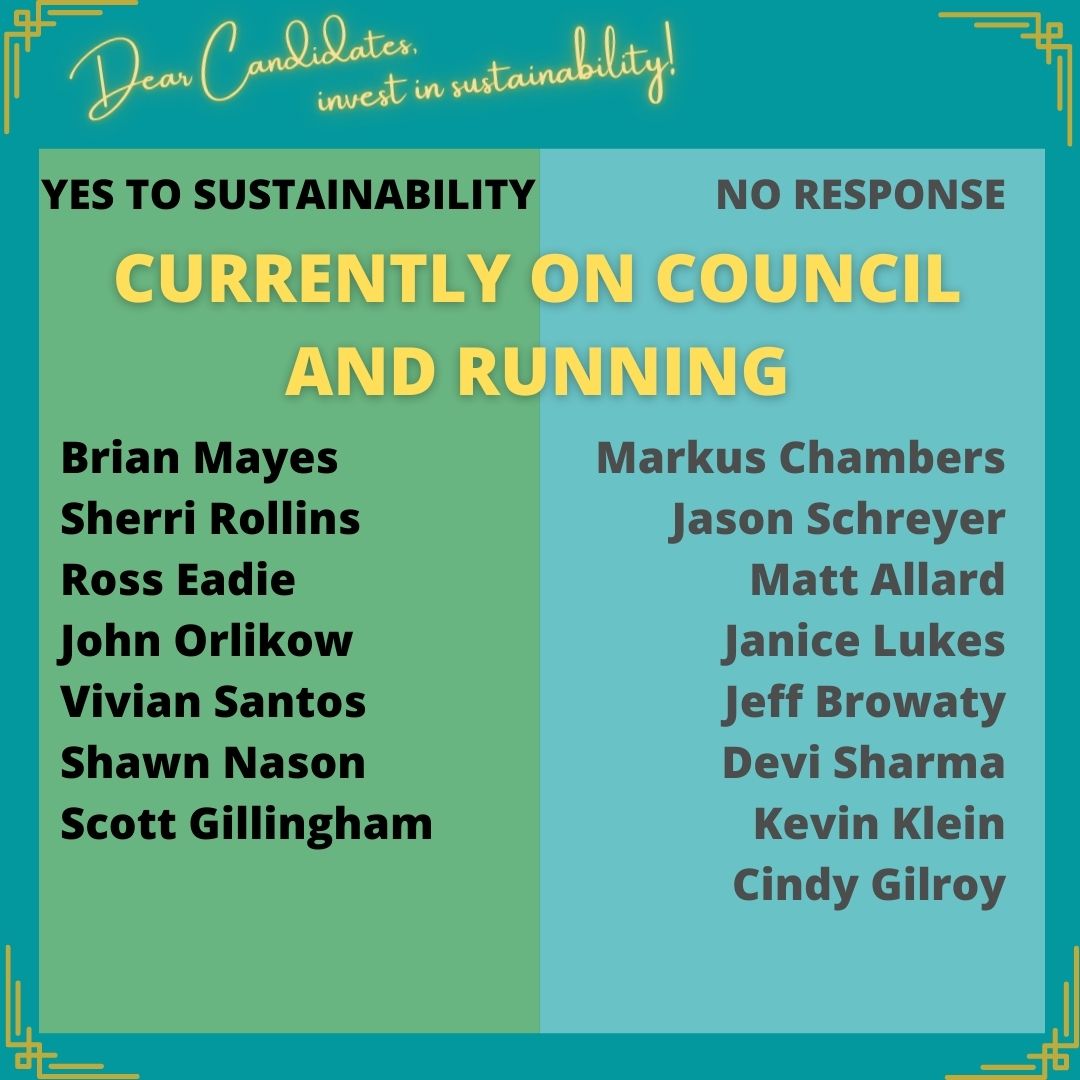 These questions were based on the Dear Winnipeg, invest in sustainability campaign where over 90 organizations signed an open letter.
You too can join the ongoing campaign to help make sure the elected candidates follow through and invest in sustainability.