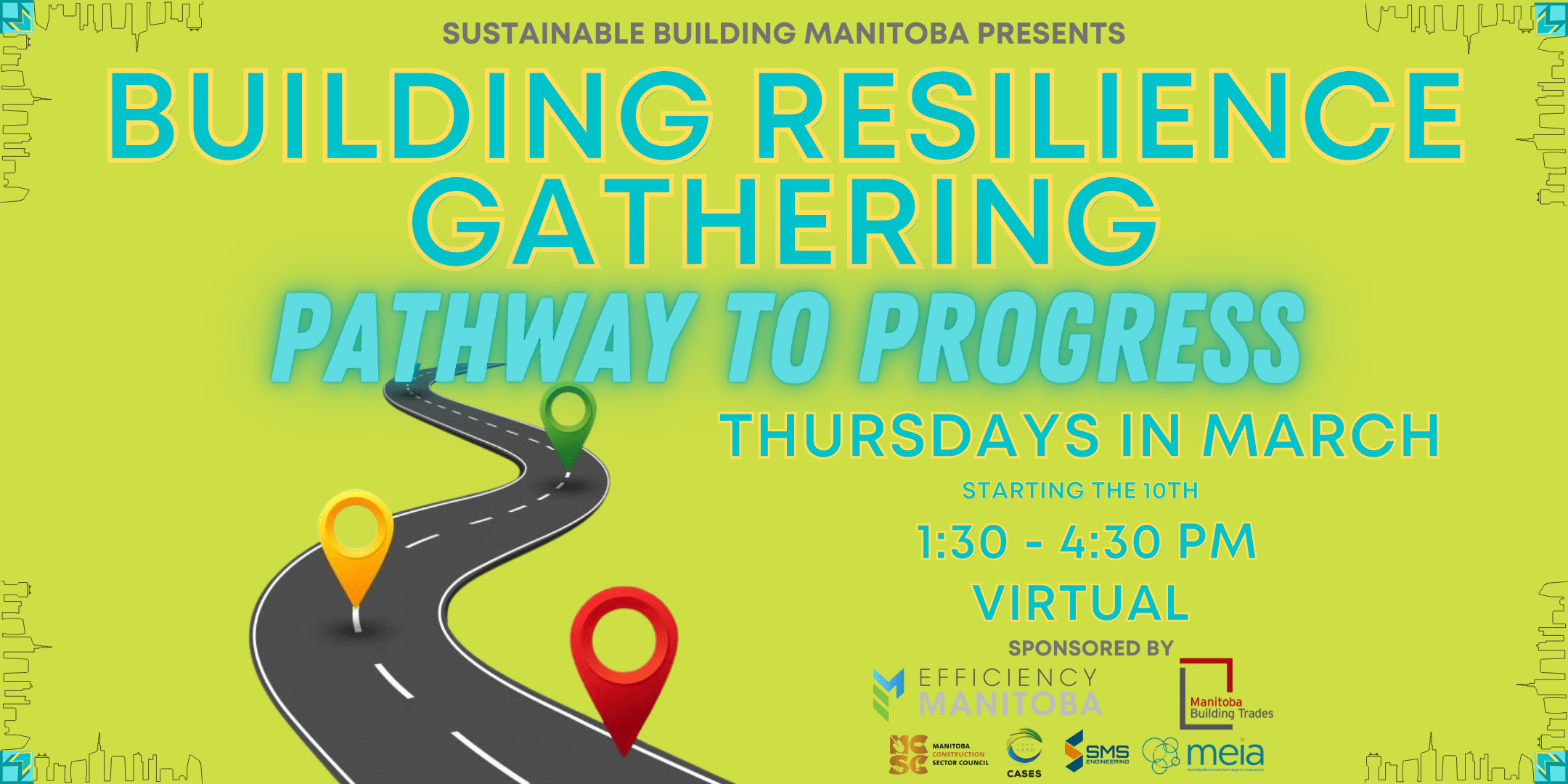 Every Thursday afternoon in March 2022 starting the 10th. 
Sustainable Building Manitoba's annual gathering is an opportunity for our community to come together and learn from leading experts and each other.
The gathering will take place over 3 afternoons and will explore industry innovations and sector updates on things like codes and legislation. Each day will have four 30 minute presentations full of useful and inspiring information.  Final Thursday will focus on policy – together lets turn ideas into action.
Can't make the whole event?  Pop in and out to attend the sessions that work for you! See below for the flexible ticket options to suit your needs.
Between each presentation there will be a 15 minute break where participants can network and reconnect with their colleagues in an easy-to-use virtual space Gather.Town. This will be an excellent time to socialize with folks you have not seen in awhile or to make new connections. There will also be posters around the space to provide additional learning opportunities. Or you can use the time to make tea and catch up on a bit of work.  BONUS: No travel time.
SCHEDULE OVERVIEW – details and bios below (still confirming the final few speakers and collecting all the info)

Day 1 – ECONOMICS AND BUSINESS CASE (1:30 – 4:30pm | Thursday March 10 )
Day 2 – PLANNING AND LEGISLATION (1:30 – 4:30pm | Thursday March 17 )
  Day 3 – HEALTH AND ENVIRONMENT (1:30 – 4:30pm | Thursday March 24 )

Thursday March 31st 1:30 pm POLICY PARTY

There is no cost to attend any part of the Policy Party though to attend the online portion you will need to register to get the link to Gather Town. 
1:30 – Join online on Gather Town to discuss and build on policy plans and turn talk into action! Together we will work to determine opportunities and timelines to champion a more sustainable built environment in Manitoba. Take a look at SBM's objectives as a starting point and we'll build from there.  Geographical location is not a barrier to participate.
3:30 – Gather in person at Hargrave Market in front of Gusto North at True North Square in Winnipeg for informal time together to build relationships that will help us collectively build a sustainable Manitoba.  It will be so nice to get to see people in real life!
Please feel free to join even if you have not attended any other part of the Building Resilience Gathering!
Three cheers to a sustainable Manitoba!
Gather Town is a dynamic online space that, for a virtual space, does a great job of delivering what is close to an in person discussion (as opposed to Zoom or Teams where you are in one big conversation).
Curious about Gather.Town?  Feel free to try their demo.
SOCIAL TIME!
Gather.Town is an excellent platform for conversation and networking because of how easy it is to move around the space and connect with a variety of people in small groups or one-on-one.  Take a moment to familiarize yourself on how Gather.Town works for maximum enjoyment.
TICKETS
 Sold through Eventbrite.  Free for SBM student Members, discounts for SBM sustaining members.
MEMBER PRICE
REGULAR PRICE
FULL 3 DAYS
$48
$60
ANY TWO DAYS
$36
$45
SINGLE DAY
$20
$25
Free for SBM student members. (let the students in your life know ?)
MEMBERS – use your email in the promo box to take advantage of these discounts.
NEW THIS YEAR – Special pricing for Offices at $100 for the whole conference.  This is a great chance to set up in your board room to participate in learning and to build collabration within your team.  Or maybe you think there are some members of your team that should see one session and others that should see a different one.  This ticket offers you that flexibility.
Day 1 – ECONOMICS AND BUSINESS CASE
Thursday March 10 | 1:30 – 4:30
Can High-Performance Buildings and Deep Retrofits Actually Save you Money? (Thursday March 10 | 1:30)
New buildings must be high-performance, and when retrofitting existing ones, the retrofits should be deep and take the building to net-zero emissions. This is the most economical approach in the long term.
High-performance buildings and deep retrofits of existing buildings result in much lower life cycle costs / total costs of ownership. We should optimize our buildings to minimize full life cycle costs as opposed to just the initial construction costs.
Jim Nostedt from SEEFAR Building Analytics
Jim is the President of SEEFAR Building Analytics and co-developer of the SEEFAR-Valuation© program that determines the life cycle cost of buildings or what we call the Total Cost of Building Ownership (TCBO). The vital part of this analysis is that when the TCBO is known, high-performance buildings and deep retrofit buildings have a dramatically lower TCBO. With dramatically lower TCBO, building owners are more likely to build high-performance buildings or perform deep retrofits. Jim is a seasoned mechanical engineer with over 40 years of experience in design, construction, and project management in the private and public sectors. He has spent most of his career working in energy conservation and sustainability.
Financing Sustainable Building
: Removing Carbon From Lending

(Thursday March 10 | 2:15)

Keeping climate change under control will require a greater investment in new buildings and a massive campaign of deep retrofits on older buildings to be more energy-efficient. How are we going to pay for all these projects?

The transition to a net-zero built environment presents opportunities and challenges. Financial institutions must play a critical role in supporting a transition to high-performance buildings. What are the drivers to move lenders to move at a pace aligned with Paris targets?

Dennis Cunningham joined Assiniboine Credit Union as Manager, Environmental Sustainability in 2010. He develops and delivers recycling, waste management, active commuting and energy efficiency projects that contribute to ACU's environmental leadership. He is also responsible for ACU's greenhouse gas management program. His work in this area resulted in ACU becoming the first and only carbon neutral credit union in Manitoba in 2018
Road to Resilience: Is it possible? (Thursday March 10 | 3:00)
In 2020, the Climate Action Team released Manitoba's Road to Resilience – a community climate action pathway to a fossil fuel free future.  The report explored how to heat all of our buildings (old and new) affordably without natural gas.
Manitoba Hydro has published estimates of the power and energy required to heat all of our buildings and charge all of our vehicles electrically. Roughly, those estimates call for a doubling of current power generation. This has been used as justification for some to throw up their hands and say "See, it can't be done". We beg to differ. Not only must it be done, we believe that our numbers show that it can be done. And it can be done without experimental technologies, new dams, or nuclear.
Join to learn about the numbers, what is behind them and the path they plot forward.
Curt Hull from Climate Action Team
Curt Hull is a professional engineer and has been Project Director of Climate Change Connection since 2007. Prior to that, he worked for 25 years managing quality in a global electronics design and manufacturing enterprise. With Climate Change Connection, he works to find solutions to climate change, working with groups involved in active transportation, public transportation, sustainable buildings, sustainable energy, and local food and agriculture. He is a consultant with Engineers Geoscientists Manitoba and also works on sustainability projects with northern Manitoba First Nations communities. He is on the Board of Directors of Sustainable Building Manitoba and Climate Reality Project Canada. Most recently, he is the lead author of Manitoba's Road to Resilience: A community climate action pathway to a fossil fuel free future with Manitoba's Climate Action Team. 
Selling Energy Efficient Buildings (Thursday March 10 | 3:45)
What are some of the strategies that the real estate sector is using to increase demand for energy-efficient buildings?
Real Estate Agents in Winnipeg were surveyed to ask what they are seeing on the ground regarding buyers' interest in energy-efficient buildings. This talk will present those results and help you to better understand existing and upcoming consumer trends in both the residential and commercial sectors
Peter Squire from Winnipeg Regional Real Estate Board
Peter is very engaged and active in building stakeholder relations to bring awareness to Winnipeg Regional Real Estate Board's (WRREB) important role in the market region it serves. Delivering MLS® market analysis and market intelligence to ascertain how we are progressing is part and parcel of what he does. To this end, Peter is a sought after commentator in the media on the MLS® market and also writes a column focused on the housing market in the Winnipeg Regional Real Estate News.
Affordable housing continues to be a real passion of his as a co-founder of the Housing Opportunity Partnership (HOP) in the late 90s and a long-serving director of the Winnipeg Housing Rehabilitation Corporation up until 2020. HOP has been active in completing nearly 100 homes in Winnipeg's inner city through building brand new infill homes. Qualified first-time buyers are the recipients of these well-constructed energy-efficient homes.
For over 20 years Ken Jones has provided location advice to an ever-expanding network of local, national, and international corporate clients. His focus is on Tenant Representation, Corporate Relocation, Lease Negotiation, and Property Acquisition and Disposition.
Ken is the former owner and President of the Winnipeg affiliate office of one of Canada's largest national commercial real estate firms.
He also served as the Chair of the Winnipeg Chamber of Commerce and twice chaired the Commercial Division of the Winnipeg Regional Real Estate Board.
Ken's experience includes a prior successful career as a Certified Management Accountant (CMA) holding senior management positions within both the public and private sectors.
Day 2 – PLANNING AND LEGISLATION
Thursday March 17 | 1:30 – 4:30
One House Many Nations (Thursday March 17 | 1:30 PM)
This talk will deliver an overview of a grassroots community campaign created to address the housing crisis in Indigenous communities by designing and building sustainable housing systems.
Dr. Alex Wilson from University of Saskatchewan
Dr. Alex Wilson , Opaskwayak Cree Nation, is a professor in the department of Educational Foundations at the University of Saskatchewan. 
Jacob Mans from Decentralized Design Lab
Jacob Mans is an architect and educator focused on understanding the feedback loops between building-scaled technical systems and large-scaled social and ecological systems. Jacob's research and practice focus on developing high performing socio-technical partnerships that can create more resilient architectures. He is currently conducting design-research projects on affordable housing and economic development with the Opaskwayak Cree Nation in Manitoba, Canada (w/ Idle No More); on the development of valued-added manufacturing processes to better utilize low-quality Minnesota wood resources (USFS and Savanna Pallets); on the development of trans-scalar academic, community, and private sector convergence practices through the design development of the RISE (Resilience through Innovation in Sustainable Energy) platform (w/ INESI, UPR, and the emerging RISE network); and, on the housing system redesign with the University of Minnesota's Regional Sustainable Development Partnership.
Jacob holds degrees from Luther College (2005), the University of Cincinnati (2010), and Harvard University (2016). Since joining the faculty at the University of Minnesota he has received numerous awards for his educational work including the ARCC's New Researcher Award (2019) and the AIAS/ACSA 's New Faculty Teaching Award (2020). He is a registered architect and founding partner of the Decentralized Design Lab.
Building Codes & Manitoba (Thursday March 17 | 2:15 PM)
Manitoba has announced that it intends to harmonize with the National Energy Code for Buildings.

What's being done to update the National Codes & Standards?
What is the process to develop and implement the codes and where are we in this process?
In this session you find out what is going on with the National Model Codes versus Manitoba Codes. Learn about the relationship of codes to climate change and what the priorities are for the 2020-2025 code cycle.
The presentation will include the opportunity to ask questions to a member of the government's implementation team.
Rick Marshall from BIRD Construction
Rick Marshall, MEB, P.Eng., is Design Manager at Bird Construction Winnipeg, where he leads a Design-Build team focusing on the commercial and light industrial market.  He helps clients maximize the potential of their proposed project by developing innovative design and construction solutions within an affordable budget, using his extensive industry and construction experience, and an in-depth knowledge of codes, standards, and zoning bylaws. Rick holds a Bachelor of Science in Civil Engineering from The Ohio State University and a Master of Environment and Business from the University of Waterloo.
Joe Kasprick from the Government of Manitoba
Joe Kasprick is the Program Manager – Building Codes Inspection and Technical Services Municipal Relations with the Province of Manitoba.  He has over 10 years working in municipal and provincial government. His current duties include overseeing the Building Safety section for the Province of Manitoba. This section is responsible for issuing building permits in various areas throughout Manitoba and within Provincial Parks.
What's Happening in the Federally? (Thursday March 17 | 3:00 PM)
Join this talk to hear an overview of key federal policy trends. Also, learn about how Efficiency Canada and its 12,000 supporters ensure that energy efficiency is central to the climate policy discussion.
Ive Velikova from Efficiency Canada
Ive Velikova is the Communications Manager at Efficiency Canada. She graduated from McMaster University with a degree in Psychology, Neuroscience, and Behaviour. After years of studying the human brain, Ive dove into science communication. She shares science everywhere, from summer camps to bars to festivals across Toronto.
In addition to working as a freelance science communicator, Ive also holds a Masters in Science Communication from Laurentian University. Her research looks at SciComm training opportunities for Canadian graduate students.
Ive an enthusiastic storyteller seeking to build trust and excitement for science. Through her "Science Sucks" podcast, she invites guests to discuss the ups and downs of scientific research and how it impacts our lives. As an enthusiastic public speaker, Ive has spoken at the Ontario Science Centre, Story Collider, Spark After Dark, and Science Is A Drag.
Provincial Plans (Thursday March 17| 3:45 PM)
What is happening at the provincial level? For example. the province is currently working on a new energy strategy, so what will that mean for Manitobans? Find out from the people doing the work and making the plans.

Leanne Shewchuk from the Government of Manitoba
Currently the Director of Stakeholder Engagement and Reporting at the Climate and Green Plan Implementation Office with the Government of Manitoba, Leanne is an experienced executive in the area of Sustainability and Environmental management and planning. Climate Change Specialist with a demonstrated history of working in the environmental services industry. Skilled in Engagement and Indigenous Consultation, Environmental Management, Water Resource Management, Resource Management, and Public Speaking. Strong community and social services professional with a graduate degrees in Natural Resource Management and Public Administration from University of Manitoba.
Day 3 – HEALTH AND ENVIRONMENT
Thursday March 24 | 1:30 – 4:30
Health and Well-being in Buildings (Thursday March 24 | 1:30 PM)
WELL is the leading tool for advancing health and well-being in buildings globally.  This presentation will introduce the WELL certification and discuss the WELL Health-Safety Rating in the context of the COVID-19 global pandemic. We'll look into these benchmarks with a focus on the commercial sector and understanding the scope and level of effort required.
When you see the WELL Health-Safety seal, you can feel confident knowing the space you're entering is putting your health first. 
Tofayel Hussain from WSP
Tofayel Hussain has been a consultant for eight years working with investment management firms, real estate developers, owners, and assets management companies. Specializing in new construction, project types span all sectors including commercial, high-rise residential, municipal, and academic. Tofayel has led teams on a variety of sustainable projects including high-performing LEED and WELL Platinum projects. 
Green Buildings Advocacy in Manitoba (Thursday March 24 | 2:15 PM)
In a recent SBM survey, members strongly indicated that SBM should prioritize advocating for sustainable building policies in Manitoba. Cindy Choy will review what SBM will be promoting as policy and discuss what action is needed from government and industry to do improve energy efficiency and reduce GHG.
Following Cindy, Robyn Webb will present on the pivotal role local governments play on the front lines of climate change and their leadership in decarbonizing the building sector across Canada. While municipalities may be using all the tools in their toolbox, they are the most subordinate level of government and often lack the legal authority necessary to drive down emissions from buildings and meet their climate goals. This presentation will provide insight into Help Cities Lead: a successful advocacy campaign led by BC local governments to the provincial government for expanded local government climate action powers. Robyn Webb will define policy tools for reducing emissions in new and existing buildings, will provide background on the applicability of each of the policies to Manitoba and will provide insights from the work that can be applied to the local context.
Cindy Choy
Green Building Advocacy in Manitoba: Is SBM going in the right direction?
Cindy has spent the last 20 years working towards greener buildings in Manitoba. She developed her experience in the building industry working in design and project management of health care, corrections and cultural projects. At the same time, she also volunteered to develop a green building community in Manitoba sitting at the Manitoba Round Table for Sustainable Development, establishing the Manitoba Chapter of the Canada Green Building Council (now known as SBM) as one of the founding board directors, and woking the last 15 years as Director of Manitoba's Green Building Coordination Team. She currently devotes much of her time developing small, energy efficient homes, expanding programs for Bee Better Manitoba and supporting SBM as Secretary of the Board.
Robyn Webb from Community Energy Association
Help Cities Lead – A British Columbia Case Study on Advancing Building Decarbonization Policies for Cities
Robyn Webb is the Climate Solutions Lead with the BC based Community Energy Association (CEA). Robyn has worked on climate action for over twelve years in Manitoba, Alberta and BC. She's managed leading edge climate solutions for cities in the areas of decarbonizing buildings, transportation, and land use. 
Prior to joining the CEA Robyn worked for the City Victoria where she led Victoria's implementation of the BC Energy Step Code and work on building retrofits. She also worked for the City of Edmonton where she led the development of Change Homes for Climate a home energy labelling and retrofit incentive program aimed at decarbonizing Edmonton's residential building stock. Before that Robyn was responsible for implementing the Province of Manitoba Community Led Emissions Reduction program for the Daniel McIntyre/St Matthews neighbourhood in Winnipeg. Robyn is a founding member of the Peg City Car Cooperative and Edmonton Tool Library. Presently she is a board member of Retrofit Canada and chairs the BC based Building to Electrification Coalition's Education and Awareness committee. Robyn holds a Masters degree in Urban Planning from the University of Manitoba.
Climate Change Risk Assessment and Management in Buildings (Thursday March 24 | 3:00 PM)
In this talk, Jeff O'Driscoll will discuss when, where and how to conduct a climate change risk assessment on buildings at the different phases of development: planning, design and operation. 
Jeff O'Driscoll, P.Eng., IRP from Associated Engineering
Jeff is professional engineer with over 30 years experience in consulting engineering related to the design, construction, and project management of infrastructure. Jeff graduated from the University of Manitoba in 1990 and has spent his career in Winnipeg. In recent years Jeff has become a leader in assessing climate change resilience on infrastructure and has shared this knowledge across Canada and internationally, training engineers and infrastructure stakeholders on how to incorporate climate change into day-to-day practice. Jeff holds the designation of Infrastructure Resiliency Professional (IRP). 
Jeff is the Infrastructure Division Manager for Associated Engineering's Winnipeg office. Jeff is an associate for the Climate Risk Institute, a member of the Engineers and Geoscientist of Manitoba Sustainable Development Task Group, Association of Consulting Engineers of Manitoba Board, American Waterworks Association Board, Canadian Water and Wastewater Association Climate Change Committee and chairs Associated Engineering's Climate Change Advisory Group.
Sustainable Building Training Development in Manitoba (Thursday March 24 | 3:45 PM)
How can we ensure our workforce is ready for the future? This panel discussion will inform you about new developments in training in Manitoba, and identify where we must go from here. The discussion will include an overview of the Registered Energy Advisor program and Passive House construction training.
Tanya Palson from Manitoba Building Trades
Tanya is currently the Director of Business Operations with Manitoba Building Trades and the newly opened Manitoba Building Trades Institute. In this role she works with all classifications of skilled trade professionals – on the tools workers who are a critical component of sustainable building practices. Her education background is indigenous education policy and community development, as well as marketing and business communications. Now she spends most of my time working in stakeholder engagement and managing programming and workforce development at MBTI.
Jack Winram from Manitoba Environmental Industries Association
Jack Winram is currently Executive Director of the Manitoba Environmental Industries Association. Jack has nearly 30 years experience in the environmental and energy sectors in roles varying from frontline field work to senior management positions, and across both industry and regulatory positions.