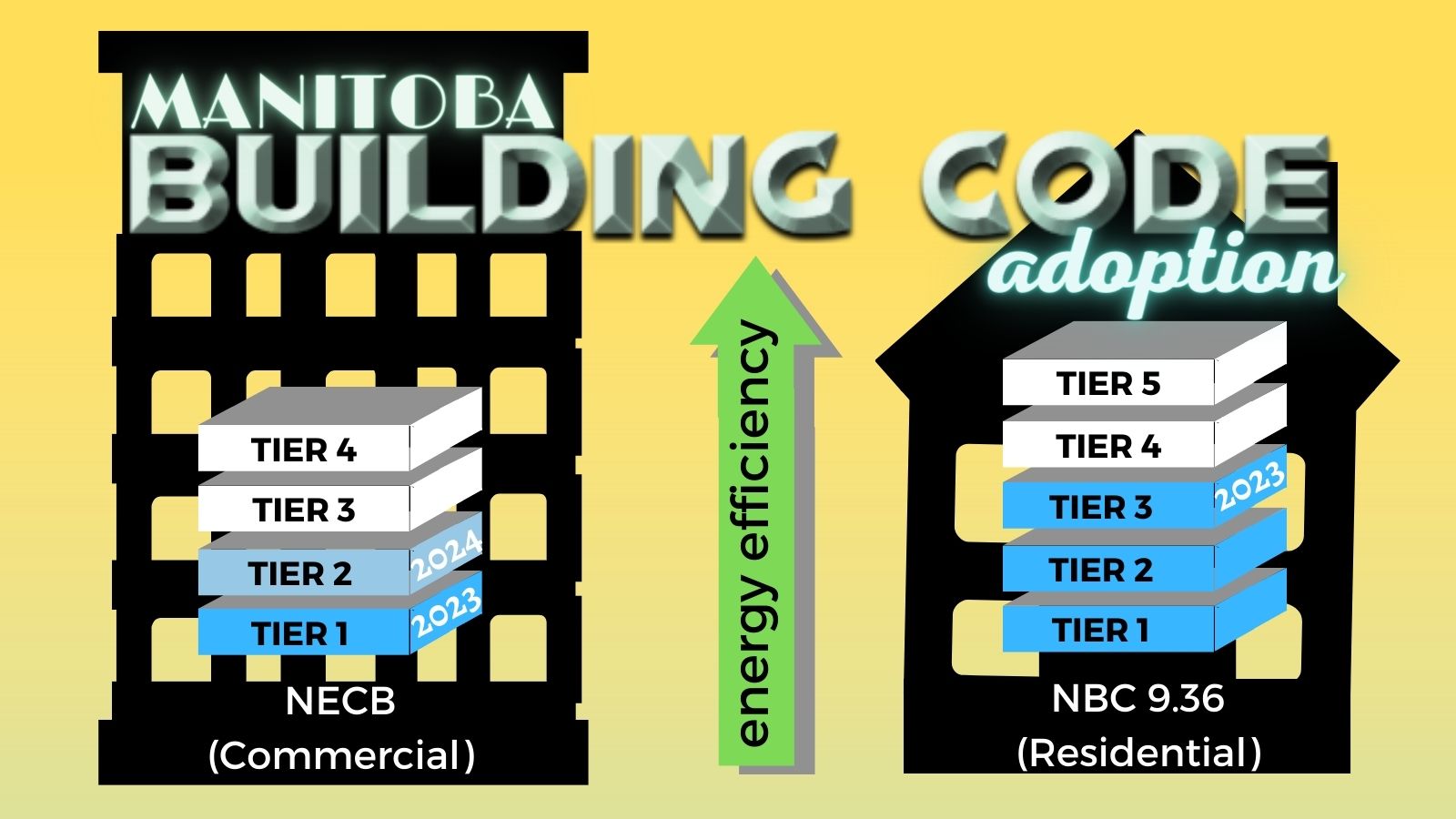 Letters to Ministers
In May SBM sent a letters to six Ministers supporting to Building Code adoption.
SBM sent a second letter to all six Ministers that reflected what we heard talking to people from all corners of the sector calling for accelerated adoption of the 2020 codes as part of the consultation period launched June 30th 2022,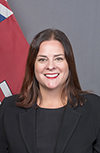 Premier, President of the Executive Council, Minister of Intergovernmental Affairs and International Relations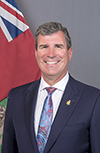 Minister of Labour, Consumer Protection and Government Services Minister for PUB and Civic Service
Follow
the link
and look for the "make a comment" button on the top right-hand corner of your screen
2015/17 Code Adoption Consultation

In summer 2022, the Manitoba Government was seeking input from Manitobans on adopting the  2020 National Model Building Codes in Manitoba.  As per the background provided via their portal, the government's current plan is to adopt the 2015/2017 codes effective November 1 2022, and then adopt the 2020 codes within the 24-month timeline agreed to in 2021's The Building and Electrical Permitting Improvement Act.
Manitoba is a signatory to the Construction Codes Reconciliation Agreement which states that the 2020 National Model Codes must be adopted within 24 months of being published. Subsequent updates to National Model Codes would be made law within 18 months.
After some analysis and consultation with industry professionals, SBM has identified a number of reasons why the immediate adoption of the 2020 codes should take place:
Added costs and capacity to working professionals to relearn 2020 codes 17 months later

Incremental design and construction costs between NECB 2015/2017 and 2020 are negligible

Lost competitive advantage working between provinces

Manitoba has experience building to the specifications found in 2020 codes

Save money in the building's operating life cycle costs and pay less carbon tax

Lower GHG emissions

General building comfort which also impacts learning and productivity
(More background on each point is provided below.)
Based on consultations with a wide variety of Manitoba stakeholders SBM recommends the following:
Accelerate the adoption of the 2020 National Model Codes at a Tier 4 level.
Reform a committee of industry stakeholders to receive feedback on new code implementation and work with industry to develop a plan to confidently and swiftly move up through the tiers outlined in the 2020 National Model Codes.
Allocate funding to an educational campaign about code content and promotion of its rollout.
Invest in workforce training.
Monitor code enforcement with the intention of adjusting as required.
Review SBM's submission calling for the accelerated adoption of the 2020 codes.
Building sustainably is the low hanging fruit of climate action and economic development.  Together we can capitalize on this critically important opportunity by making a strong and collective call for appropriately ambitious codes.
BACKGROUND on why we should accelerate 2020 code adoption

Below is also some sample text we drafted for any to use;
In your comments it is also helpful to ask for the government to learn from other jurisdictions that benefited from the government investing in educational resources to support code adoption.
Sample text:
Successful code implementation includes investment from the government in education and promotion of codes.
Added costs and capacity to relearn 17 months later
Adopting NECB 2015/2017 as an incremental step to adopting NECB 2020 does not do architecture and engineering professionals any favours. It introduces a duplication of effort and overhead costs associated with familiarizing staff, and developing designs and specifications to two new versions of the NECB within the short period of 17 months. It is more cost efficient to adopt 2020 now.
Sample text:
I am very concerned about the added financial cost and time spent on training that will arise from going through an entirely new set of codes rather than straight to the 2020 codes.  It is asking a lot of firms and professionals to put that kind of energy into learning a set of codes for them to only be in place for 17 months.  It is more efficient financially to adopt 2020 now and will help the professional workforce to thrive.
Competitive Advantage Working Between Provinces
Building consulting professionals routinely provide technical services both within and outside of Manitoba and as such must be proficient in the applicable codes in those outside jurisdictions.  With neighbouring provinces such as Saskatchewan and Alberta adopting NECB 2020 automatically by legislation, professionals in Manitoba gain the competitive advantage of standardization and similarity through a harmonized adoption of NECB 2020.
Sample text:
My company will be at a competitive disadvantage for work.  Other provinces and the federal government are already adopting  2020.  As a Manitoba company, I am placed at a disadvantage for work outside of MB because my company will not be ready to work in that code.  Yes, I could invest in capacity for both 2015/2017 codes AND 2020 so that I can work outside the province, but it is a drain on my resources that again, reduce my capacity to compete.  Also – if we wait until 2024 to adopt 2020 Building Code, other companies who have been working in the new code already will be able to out bid me in my own province!
Manitoba Is Not New to Building Better
Manitoba Hydro and more recently Efficiency Manitoba have long provided incentivized programs to encourage buildings to exceed the minimum requirements of the NECB.  Most recently the New Buildings Program offers between $0.50-$2.00/sq ft for buildings which exceed the current MECB 2013 (NECB 2011 with amendments) by 5-20%. 
Sample text:
We have already shown that we can do it.  For decades, we have been designing and constructing new buildings to much higher levels of energy efficiency through the Power Smart New Buildings program, provincial government policies and progressive building owners.  There is no reason to delay 2020 code adoption when we have proven that we can already deliver energy and can do it for almost the same cost.  
Save money in the life cycle and pay less carbon tax
When considering the total cost of building ownership, including the cost of energy and maintenance over the entire lifecycle of a building, and not just the upfront cost.  Canadian buildings are expected to last for 50 years or more.  New buildings constructed to stringent building energy codes help avoid locking in decades of inefficient building performance.  Building to higher performance standards today means building owners can avoid costly and complex retrofits in the coming years – there are substantial savings which can be realized by adopting the latest NECB 2020 to mandate building higher performing buildings which will save the owner money over the long term by reduced utility bills and carbon tax payments. Building to the 2020 codes now will save money.
Sample text:
Investing in energy efficiency at the outset for new buildings is the most cost efficient strategy.  If we do not mandate more energy efficient buildings now, Manitobans will pay more for energy through the life of the building – especially as the carbon tax increases.  This will be a drain on our economy for decades to come whereas investing in more energy efficiency now is a driver for our economy and new green jobs.  More and more I am facing increasing energy costs.  I would like to make sure we are doing everything we can to keep the ongoing costs low and you have an opportunity to keep more money in the pockets of Manitobans. We need to stop thinking short term and look at the long term effects of our decisions.
Lower GHG Emissions
Adopting NECB 2020 can help to address climate change by raising the minimum energy performance of all new buildings, resulting in less electricity and natural gas consumed which in turn reduces Manitoba's GHG emissions and extends the ability of the existing hydro electric facilities to meet the future demand for energy.
Sample Text:
I am very concerned about climate change and a more efficient building emits less greenhouse gas emissions.  It is very important to drastically reduce GHG contributions when contemplating a new building because a it is a net add to global emissions through it materials and construction process.  More importantly – It will also continue to emit through its decades-long life cycle and well beyond the 2030.  The less energy we need to heat and cool these new buildings – the better we are able to achieve our climate reductions. Time is of the essence!
Building Comfort Impacts for Learning and Productivity
The thermal comfort impact of the indoor environment is easily understood by anyone who has tried to concentrate to learn or work while sitting next to a drafty window on a cold winter day.  Each successive iteration of the NECB improves the minimum performance of building enclosure assemblies and thereby improves occupant productivity and learning outcomes. Building to 2020 codes will improve building performance, and thus human comfort.  It should be noted that COVID will most certainly not be the last pandemic we will see.  Building higher performing envelopes that are more airtight will facilitate a properly controlled and operational HVAC system.
Sample Text:
Whether at home, work or school, I and other Manitobans deserve to be comfortable and a high performance building is important.  We all know what it is like to be in a drafty building and how distracting it can be.  The 2020 building codes go further in ensuring that comfort is achieved.  I also think about the resale value of the building when it comes to new builds. As well, I would like Manitoba to be better prepared with regards to air quality when it come to the health of people living and working in buildings – building higher performing envelopes that are more airtight will facilitate a properly controlled and operational HVAC system.
Incremental Costs between NECB 2017 and 2020
The upfront costs for buildings associated with complying with NECB 2020 rather than NECB 2017 is likely very small in reality, in which the higher level of performance is readily achieved with good design, detailing and selection of products and materials. Increasing the performance of the building envelope and airtightness of the building can drastically reduce uncontrolled air flow and heat loss. This means that the building's heating and cooling equipment can be reduced leading not only to more affordable capital costs, but also long-term reductions in the energy used, and paid for, to heat and cool the building over its entire lifetime.
Sample Text:
Using cost as a reason to not go straight to 2020 codes does not make sense to me as the difference in costs between the two sets of codes is minimal.  I know that costs are always a concern and I do not believe that in this case we should see this as a reason to not move forward.